Thermoformed tubes on plan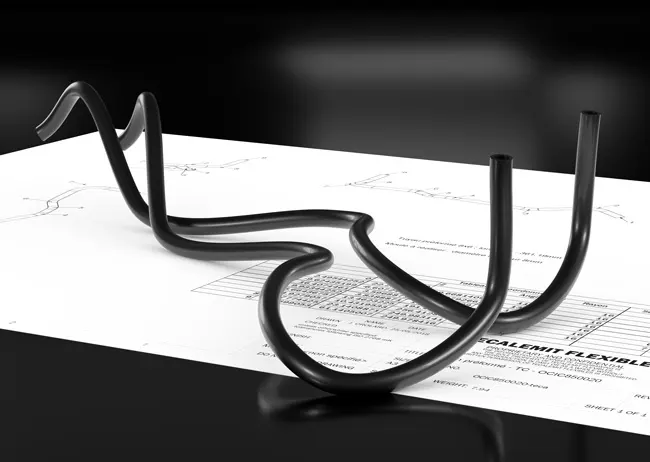 Tecalemit Flexibles® thermoformed tubes are custom-made based on plans provided by our customers and after analysis by our research and development department.

They are usually produced from MANURIL® and MANULAN® tubes from our usual manufacturing but can also be made in FEP (Ethylene-Propylene-Perfluorinated) when the temperature constraints are high.

Tecalemit Flexibles also offers thermoformed tubes made from monotubes or even multitubes.
These parts, in comparison to steel, are very resistant to corrosion, extremely light, durable and economical.
They can have all the desired shapes which may have an advantage over metal tubes.

A thermoformed tube is defined by :
- The type of raw material desired : PA12 PHL, PA11PHL, Polyurethane, FEP...
- The outside diameter and the inside diameter of the tube constituting it.
- Its color and length.
- The 3-dimensional shape of the preformed (.step file or coordinate table)
- The possible equipment of the ends by fittings and bending springs.

The spirals which constitute a specific family of thermoformed tubes correspond to tube windings of widely varying diameter and useful lengths.
In addition to the standard characteristics (tube type, internal and external diameters ...) they are defined by :
- The useful length of the spiral (maximum length of use to ensure a good afterglow of the tube after use)
- The number of turns.
- The length of the straight parts at the ends.
Contact us for more information