Spiral tubes MANULAN®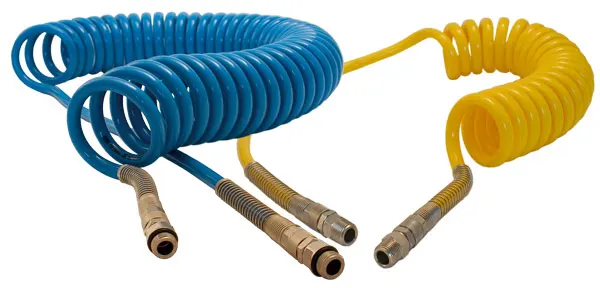 With better flexibility than polyamide, polyurethane is particularly adapted to the production of spiralled tubes.
Moreover, MANULAN® spiralled tubes have an excellent resistance to impact and abrasion.
They have straight lengths at each end to facilitate use and connections.
Their working pressure is 9 bars at 30°C.
they are equipped with 1/4" or 3/8" male BSP fittings according to tube diameter.
Polyurethane spiralled tubes (Manulan® spirals)
Part n°
Outer
diameter
(mm)
Inner
diameter
(mm)
Contracted
length
(mm)
Working
length
(m)
End
length 1
(mm)
End
length 2
(mm)
Coil
outer
diameter
(mm)
Weight
(gr/mm)
Male bsp
end-fittings
1089400200399
4
2,5
600
2
100
300
24
80
1/4
1089400400399
4
2,5
760
4
100
300
24
120
1/4
1089900200399
6
4,0
630
2
100
300
32
120
1/4
1089900400399
6
4,0
850
4
100
300
32
200
1/4
1089900600399
6
4,0
1070
6
100
300
32
280
1/4
1089900800399
6
4,0
1290
8
100
300
32
360
1/4
1089100200399
8
5,0
800
2
100
500
42
210
1/4
1089100400399
8
5,0
1000
4
100
500
42
360
1/4
1089100600399
8
5,0
1200
6
100
500
42
510
1/4
1089100800399
8
5,0
1400
8
100
500
42
660
1/4
1089200200399
10
6,5
800
2
100
500
52
300
3/8
1089200400399
10
6,5
1000
4
100
500
52
520
3/8
1089200600399
10
6,5
1200
6
100
500
52
740
3/8
1089200800399
10
6,5
1400
8
100
500
52
960
3/8
1089300200399
12
8,0
790
2
100
500
65
400
3/8
1089300400399
12
8,0
990
4
100
500
65
700
3/8
1089300600399
12
8,0
1190
6
100
500
65
1000
3/8
1089300800399
12
8,0
1380
8
100
500
65
1300
3/8